SELF-GOVERNMENT EMPLOYEE IN THE POLISH DEFENCE SYSTEM ON THE EXAMPLE OF MAZOWIECKIE PROVINCE
Keywords:
local self-government, employee, defence system.
Abstract
The subject of the article is an organization of local government authorities in the implementation of tasks related to security and defence. Attention is focused on issues of employment and organization of work. The issues addressed relate to the adequacy of employees' knowledge and experience within the limits of their professional duties, the adaptation of the number of employees to the purpose of the tasks and the public opinion on the activities of the security bureaus. The article is based on the results of the qualitative and quantitative studies carried out within the framework of the project "Local self-government in Polish non-military defence system" conducted by the Department of Security and Defence Systems from the Faculty of Logistics in Military, University of Technology, during 2015-2016, in Mazowieckie Province.  
References
Kuc B. R. & Moczydłowska J. M., Zachowania organizacyjne (Difin, Warszawa, 2009). Kuliczkowski M., Pozamilitarne przygotowania obronne w Polsce. Uwarunkowania formalnoprawne, dylematy pojęciowe i próba systematyzacji (Wydawnictwo AON, Warszawa, 2013). Kuliczkowski M., Pozamilitarne przygotowania obronne w Polsce. Próba systematyzacji procesowych oraz funkcjonalnych aspektów przygotowań (Wydawnictwo AON, Warszawa, 2016). Kumari G. & Pandey K. M., "Job satisfaction in Public Sector and Private Sector: A Comparison," International Journal of Innovation, Management and Technology, no. 3 (2011). Penc J., Motywowanie w zarządzaniu (Wydawnictwo Profesjonalnej Szkoły Biznesu, Kraków, 1996). Penc J., Kreowanie zachowań organizacji (Agencja Wydawnicza Placet, Warszawa, 2011). Shultz T. W., "Investment in human capital," American Economic Review, vol. 5 (1961). Strategia obronności Rzeczypospolitej Polskiej. Strategia sektorowa do Strategii Bezpieczeństwa Narodowego Rzeczypospolitej Polskiej (Ministerstwo Obrony Narodowej, Warszawa, 2009). Szmitkowski P., "Szkolenia obronne w administracji publicznej jako istotny element edukacji dla bezpieczeństwa w RP," Zeszyty Naukowe Wyższej Szkoły Humanitas. Pedagogika, no. 15 (2017).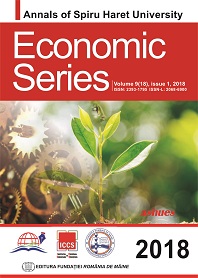 Downloads
Additional Files
How to Cite
ADAMKIEWICZ, J. (2018). SELF-GOVERNMENT EMPLOYEE IN THE POLISH DEFENCE SYSTEM ON THE EXAMPLE OF MAZOWIECKIE PROVINCE. Annals of Spiru Haret University. Economic Series, 18(1), 177–190. https://doi.org/10.26458/1818