SPECIFIC SUBJECTS OF LICENSE ACADEMIC PROGRAM - AN IMPORTANT STAGE OF PROFESSIONAL DEVELOPMENT OF FUTURE MILITARY LEADERS AT NATIONAL MILITARY UNIVERSITY, BULGARIA
Keywords:
motivation, military formations, National Military University, specialized topics, professional development, military leader
Abstract
On the basis of an approved request by the Head of National Military University it is conducting research on motivation in military formations of the example of Vasil Levski National Military University in Veliko Tarnovo, Bulgaria. Subject of the study is motivation for training and military activities of the cadets and the objects of the study are students in professional military direction in "Organization and management of military units at the tactical level," Land forces faculty at the National Military University of Bulgaria. The article presents results of the study at second item - "Do you agree that the study of specialized topics is an important stage of your professional development of future military leader?". The interviewees were cadets who graduated through the following academic years - 2013/2014, 2014/2015, 2015/2016.
References
Drucker, P., New Realities, Sofia, 1992.
Kamenov, K., Anatoliy Asenov, Man. Teams. Leaders, Lorraine, Sofia, 2000.
Djonev, S., Social Psychology, Volume II, S., 1997.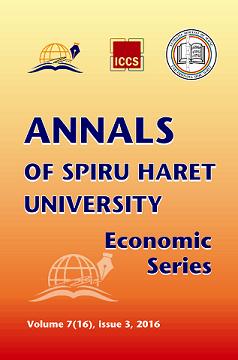 Downloads
How to Cite
PETROVA, E. S. (2016). SPECIFIC SUBJECTS OF LICENSE ACADEMIC PROGRAM - AN IMPORTANT STAGE OF PROFESSIONAL DEVELOPMENT OF FUTURE MILITARY LEADERS AT NATIONAL MILITARY UNIVERSITY, BULGARIA. Annals of Spiru Haret University. Economic Series, 16(3), 113–119. https://doi.org/10.26458/1639