ROMANIAN TOURISM MARKETING RESEARCHES
Keywords:
country brand, tourism product, research, foreign tourist, tourist circuit
Abstract
In sustainable development, tourism plays a vital role, with a high contribution in Romania's economic recovery and relaunch. Raising the tourism product of the values enshrined in the corresponding standards and preferences of foreign tourists involves initiating and promoting actions that include, on one hand, workflows education and training of a mentality appropriate current type of development, and on the other hand , emphasizing sustainable development in regions of tourist's reception. Based on these considerations, this paper aims to determine how the tourism products must be designed from the point of view of marketing, to comply with the principles of sustainability. To this end we analyzed research on consumption of tourist's services in Romania, made by INSOMAR, and an analysis of the Romanian tourism seen by strangers.
References
Jelev Viorica, Turism International,(Editura Fundatia Romania de Maine, 2013)
Jelev Viorica, Marketing turistic, ((Editura Fundatia Romania de Maine, 2013)
Jelev Viorica, Marketingul serviciilor, Note de curs, volumul 2, (Editura Fundatia Romania de Maine, 2008)
Stănciulescu, Gabriela, Sustainable Tourism Management in urban centers, (Editura Economica 2004)
Eagles, P.F.J., McCool, S.F., C. D. Haynes, "Sustainable Tourism in Protected Areas Guidelines for Planning and Management", World Commission on Protected Areas, IUCN, 2002
Ispas, A. (2007), "The image of Romania as a tourist destination" in Economic Talks Magazine, nr. 4 / April 2007, p.48-53.
Jelev, Ioan and Jelev Viorica- The role and priorities of the Romanian National Committee" Man and Biosphere of UNESCO application in Rodnei Mountains National Park, a biosphere reserve" European Journalism -Festivalul, Tg. Jiu 2010
Jelev Viorica. -Tourism marketing in Romania. Constraints and prospects, Conferinta cadrelor didactice din USH, 2009
Sundseth Kerstin, "Using natural and cultural heritage to Develop Sustainable Tourism in nontraditional tourist destinations," European Commission Study, Ecosystems LTD
National Strategy for Regional Development, National Centre for Sustainable Development, May 20, 2008
Regional Operational Programme 2007 - 2013 (REGIO) -The Ministry of Regional Development an, d Tourism
"Holidays and travel" Review
INSOMAR-Study: consumption of tourist services in Romania 2009
www.wto, "Tourism Vision 2020" international -www.mturism.ro/studii/studii
http://www.tourismnt.com.au/en/strategies/nt-tourism-vision-2020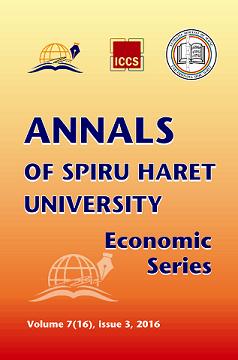 Downloads
How to Cite
JELEV, V. (2016). ROMANIAN TOURISM MARKETING RESEARCHES. Annals of Spiru Haret University. Economic Series, 16(3), 53–67. https://doi.org/10.26458/1634