The link between active aging and retirement age
Keywords:
retirement age, econometric model, active aging, policies
Abstract
The paper aims to shed light on the policies and consequences of the current retirement age in Romania. The retirement age has been repeatedly incremented in Romania in the last couple of years in order to try to compensate for the fact that the country has a low general employment rate, only 30% of the population, while having 20% of the total population aged 65+. By using an econometric model we will first prove the existence of an optimal retirement age that might vary for each and every one of us, after which we will explore different possibilities of exploiting this information in order to improve the current retirement programs. Mainly, we will look at the possible solution of eliminating the mandatory retirement age in certain work sectors through a comparison analysis.  
References
Ashenfelter Orley, and Card David (2002), "Did the Elimination of Mandatory Retirement Affect Faculty Retirement?" American Economic Review, 92(4): 957-980.
Foster Liam, and Walker Alan "Active and Successful Aging: A European Policy Perspective", Oxford University Press on behalf of The Gerontological Society of America, 2014.
Göbel C. and Zwick T. (2010), "Which personnel measures are effective in increasing productivity of old workers?", ZEW-Centre for European Economic Research Discussion Paper (10-069).
Mladen Luise (2012), "Pension reforms in central and eastern European countries and their outcomes", Annals of Spiru Haret University, Economic Series, 3(1): 59-68.
Boeri Tito, Van Ours Jan (2008) "The economics of imperfect labor markets", Princeton University Press.
*** "Average number of pensioners and average monthly pension, in the second quarter of 2014", 2014.
*** "Demography, active ageing and pensions", Social Europe Guide, vol. 3, Luxembourg: Publications Office of the European Union, 2012, ISBN 978-92-79-25009-5.
Eurostat database http://ec.europa.eu/eurostat/data/database
Trading Economics http://www.tradingeconomics.com/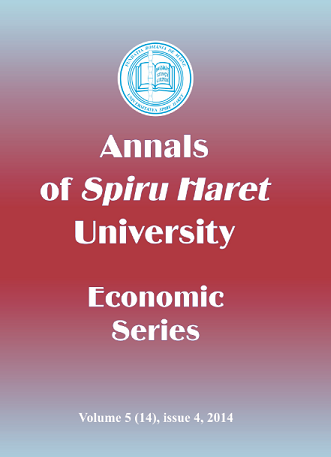 Downloads
How to Cite
PAŞNICU, M. R. (2014). The link between active aging and retirement age. Annals of Spiru Haret University. Economic Series, 14(4), 21–28. https://doi.org/10.26458/1442