The impact of the total tax rate reduction on public services provided in Romania
Keywords:
total tax rate, public services, tax collection, tax competition, social impact
Abstract
 Against the background of economic globalization, governments tend to take tax measures disadvantageous to society in order to increase the attractiveness of the business environment. A common measures for this purpose is the reduction in tax rate. According to the classical theory of tax competition such measure leads to under the provision of public goods. This article aims to show, through an econometric analysis, whether in Romania, in the period 2006-2013, reducing total tax rate had a negative impact on public services. For this, using linear regression technique, the article analysed the correlation between total tax rate and the variation in the share of the main public service spending in GDP.  
References
Ballard, C. (1990), "Marginal welfare cost calculations: differential analysis versus balanced budget analysis", Journal of Public Economics, 41: 263-276.
Bebeşelea, M. (2008), "The financial-accounting treatment of taxes", Annals of Spiru Haret University- Economics Series, 8(1): 53-62
Bucovetsky S., Marchand M. and Pestieau P. (1998), "Tax Competition and the Revelation of Preferences for Public Expenditure", Journal of Urban Economics 44: 367-390.
Creedy, J. (2000), "Measuring welfare changes and the excess burden of taxation", Bulletin of Economic Research, 52(1): 1-47.
Mayshar, J. (1990), "On measures of excess burden and their interpretation", Journal of Public Economics, 43: 263-289.
Oates W.E. (1972), Fiscal Federalism, New York: Harcourt Brace Jovanovich
Wilson J. (1999), "Theories of tax competition", National Tax Journal, 52: 269-304
Zodrow G. and Mieszkowski P. (1986), "Pigou, Tiebout, property taxation and the under provision of local public goods", Journal of Urban Economics, 19: 356-370.
*** www.insse.ro
*** www.mfinante.ro/execbug.html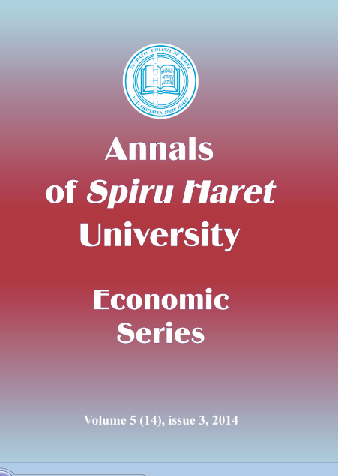 Downloads
How to Cite
TRANDAFIR, A. (2014). The impact of the total tax rate reduction on public services provided in Romania. Annals of Spiru Haret University. Economic Series, 14(3), 27–38. https://doi.org/10.26458/1433